Stay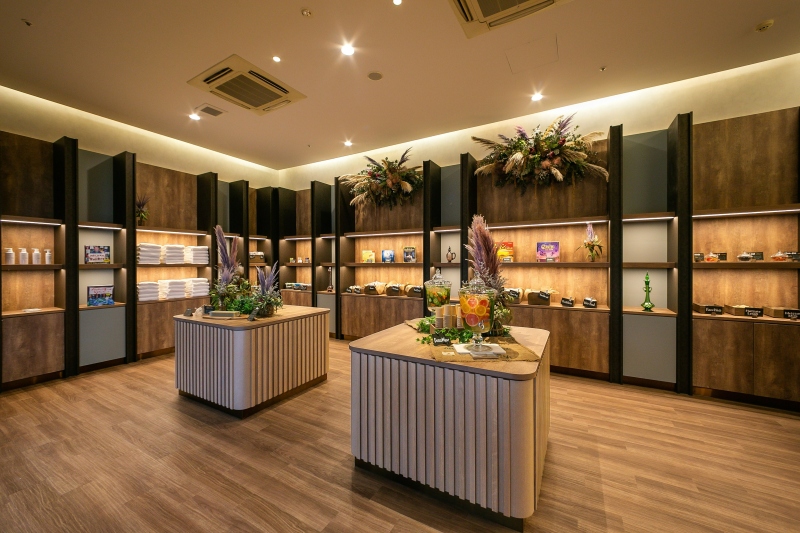 ARIN KRIN is an Okinawan word meaning "this and that." Our amenity base is set up on the Lobby Floor with the concept of giving you freedom to choose your favorite amenities that fit your lifestyle and the kind of stay you want to have. There is a wide range of products such as hair oils, bath salts, and kids' amenities, so make sure to get what you need. There are also board games and card games to be rented out so you can spend time in your room.

Open 7:00 to 24:00

Detox Water
When you arrive at the hotel, we are happy to provide detox water to help relieve the stress of your travel. Please enjoy it while you are waiting to check in or as you are choosing your amenities before you go to your room.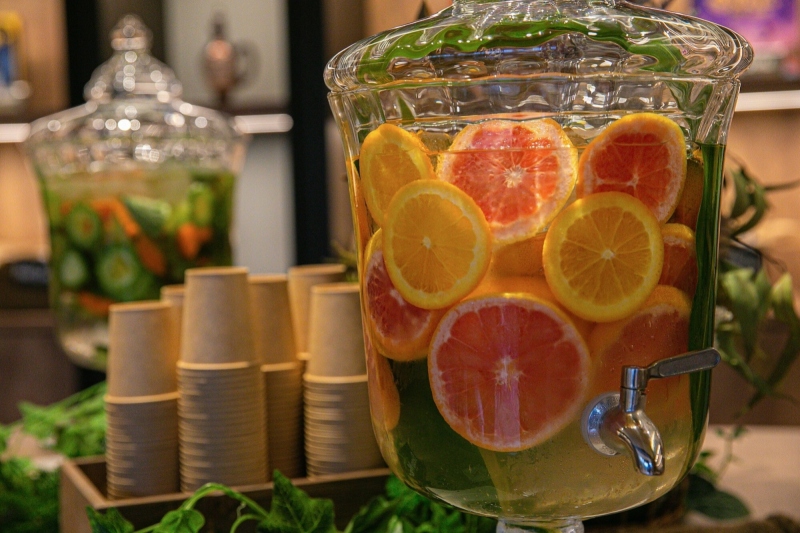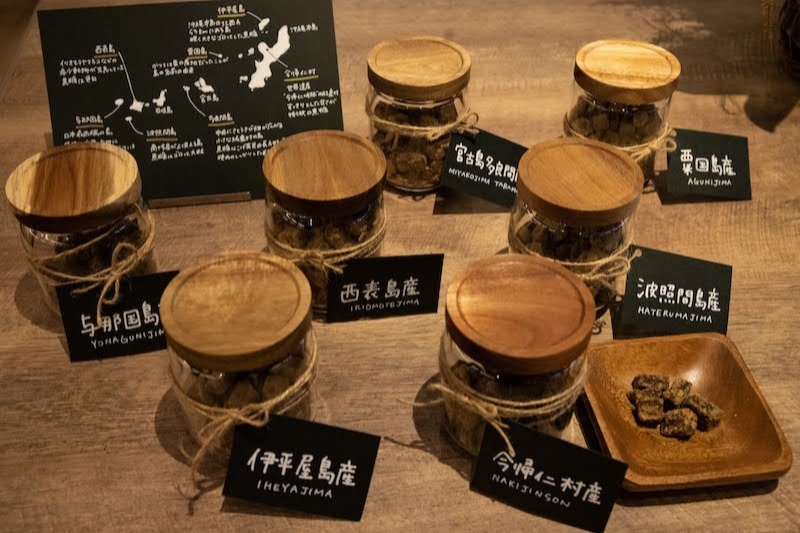 Okinawan Brown Sugar
Brown sugar is produced in many places all over Okinawa. We offer you a variety to try. It is made by boiling the sugar cane juice long enough to make it a concentrate and then cooling it without any other processing. The climate and manufacturing methods will give each region its own characteristics so be sure to compare the different ones. You can eat it as candy or put it in your coffee like a sugar cube. It has a sweet and delicious flavor.
Amenity Base Items
Facial Cleanser / Makeup Remover / Toner / Emulsion / Okinawan Soap / Hair Oil / Bath Salts / Hairbrush / Hairband / Toothpaste / Razors / Shaving Gel / Cotton & Cotton Swabs / Shower Cap / Body Sponge / Ear Plugs / Kids' Amenities (Body Sponge, Toothbrush Set, Slippers) / Black Tea / Green Tea / Paper Plates / Chopsticks / Spoons / Forks / Games

※Bath towels, face towels, shampoo, conditioner, body soap, hand soap, toothbrush sets, nightwear, and slippers are all available in the guest rooms.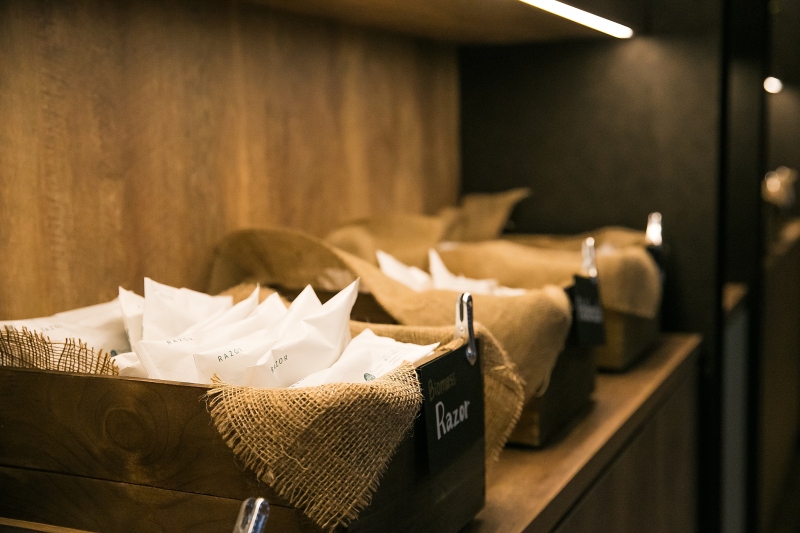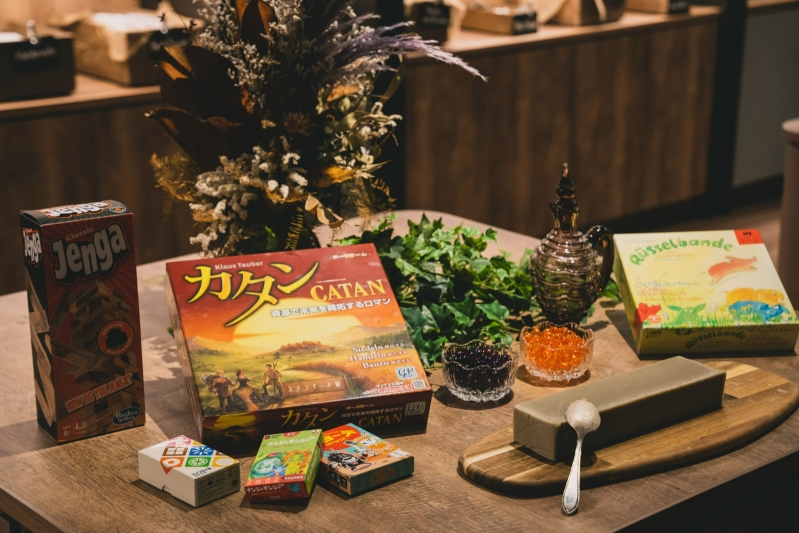 Games for Lending Out
We have a variety of board games and card cards for you to use in your room. After you make your choice, bring the rental card to the front desk in order to receive the game.
※Photos are for illustration purposes only. The contents of available games may change depending on availability.
Amenities just for kids (body sponge, toothbrush set, slippers, pajamas)
We promote the use of environmentally friendly biomass products and have prepared paper plates, wooden chopsticks, spoons, and forks for your use.
This soap is made from natural Okinawan clay and is soft enough to use a spoon with. Take just as much as you need and put it in a small bag to take to your room.
The Amenity Base is not only environmentally friendly,
but it also encourages less wastefulness.
For a number of years, our hotel has contributed to the reduction of microplastics and donated a part of the profits to coral conservation activities. We have placed mineral water in cans "WATER FROM OKINAWA" in the guest rooms, and we have switched to paper materials such as straws in the restaurants. We are committed to carrying out environmental protection activities.

The Amenity Base ARIN KRIN allows us to continue promoting such activities. There is a wide variety of items for guests to choose from freely, and by only taking the items that they will use, we aim to further reduce the amount of waste.

※Photos are for illustration purposes only. Items are subject to change.
Official Online Shop Information
Our official online shop sells items that are unique to our hotel. These original amenities can bring delicous memories of the hotel to your home. Whether it is items you use regularly in your home, a gift to yourself, or a gift for someone else, we hope that these items will add the color of the hotel to your everyday life.
Oriental Hotels Online Shop Details