Garden Pool
The pool area is spacious enough for FUN ALL DAY!
Making use of the pool makes your time at the hotel enjoyable and refreshing.
The Garden Pool is made up of 6 pools which include a kids' area.
The deck area and the cabanas offer a great view of the ocean. After watching the sunset, you can enjoy the night pool.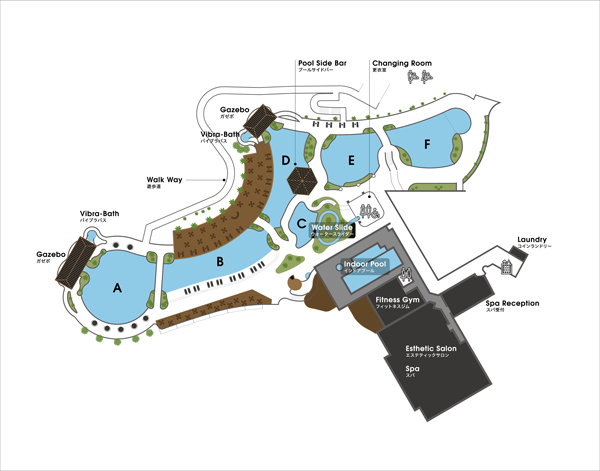 Place
1F (Outdoors)
Fees
Free for Stay Guests
All Year Round Access for Walking
7:00 ~ 22:00
※6/1~10/31 access for walking is available until 23:00.
Swimming Season

2023/3/1~2023/4/27

9:00 ~ 21:00

Limited Area

2023/4/28~2023/6/30

9:00 ~ 21:00

Limited Area

2023/7/1〜2023/8/31

8:00 ~ 22:00

2023/9/1〜2023/9/30

9:00 ~ 22:00

2023/10/1~2023/10/31

15:00 ~ 22:00

Limited Area

2023/11/1~2024/1/3

15:00 ~ 21:00

Limited Area

Heated Pool
Areas C and D are heated according to the season.
* The pool will be available on the day of your stay after check-in until your check-out time.
* Swimming times are subject to change.





The Garden Pool is a total length of 170 m.
Both adults and children can enjoy the wide space overlooking the ocean.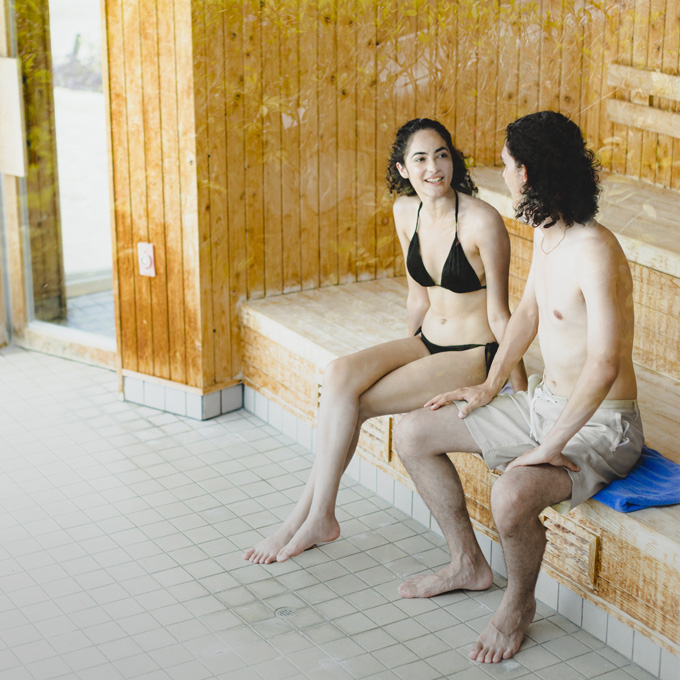 Sauna
Our poolside sauna will warm you up on a cool or windy day. The temperature is lower than a normal hot sauna and you can stay in longer enjoying the view outside.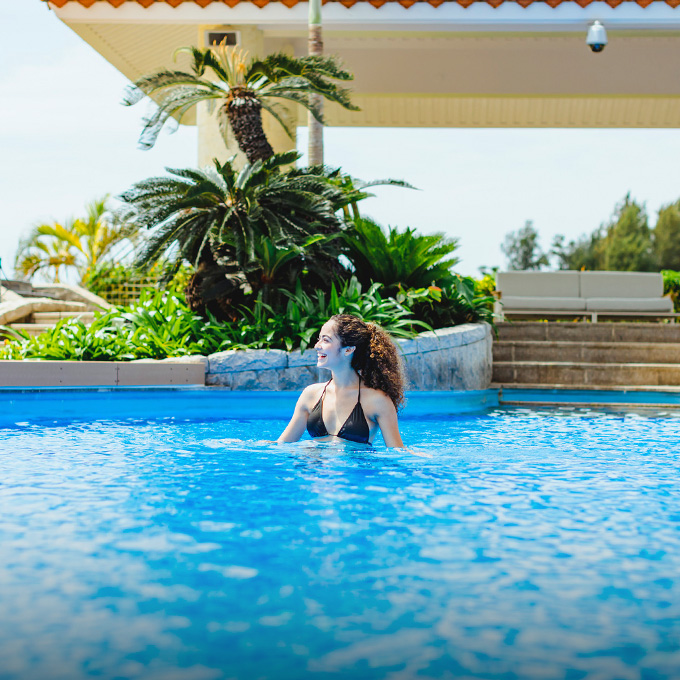 Heated Pool
Areas C and D are heated according to the season. You can enjoy the Garden Pool in late spring as well as in autumn and winter.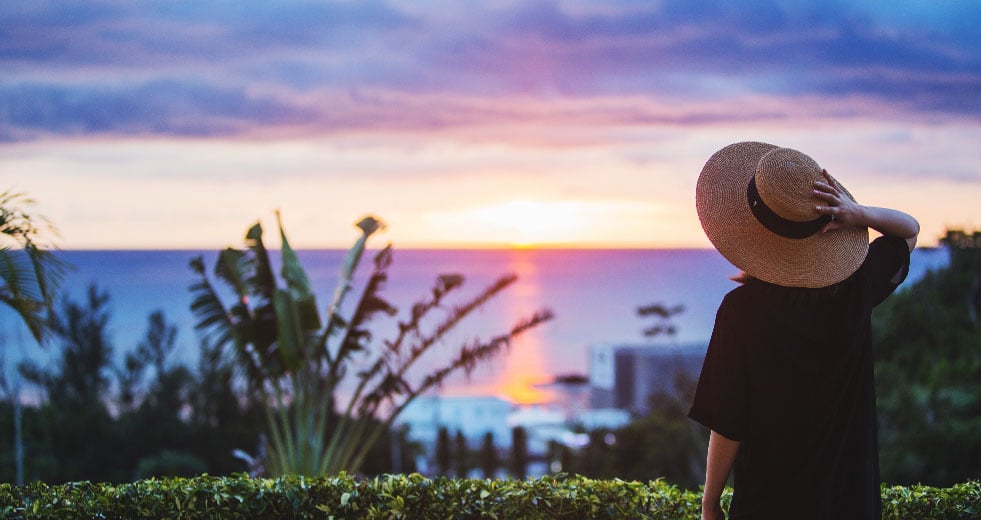 Sunset
Watching the sunset over the East China Sea from the Garden Pool is a highlight. It is inspiring to watch the colors of the vast sky and ocean gradually change from blue to pink to orange.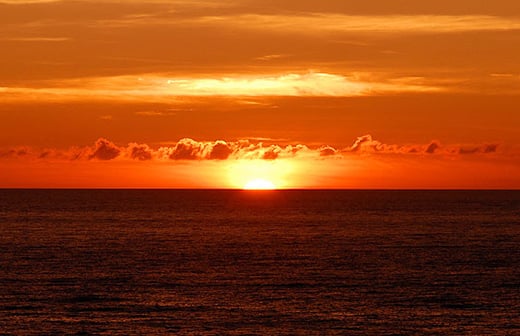 Sunset times in Okinawa (approximate):
January 18:00; February 18:20; March 18:40; April 18:50; May 19:10; June & July 19:20; August 19:00; September 18:35; October 18:05; November & December 17:40.
Night
The Garden Pool at night turns into a fantastic environment of changing light colors reflected on the water. Not only can guests watch the sunset skies, there are scheduled live music performances to be heard from the poolside or from the guest rooms. We hope you will enjoy this enchanting island experience.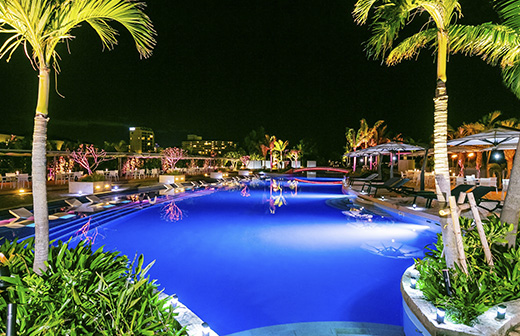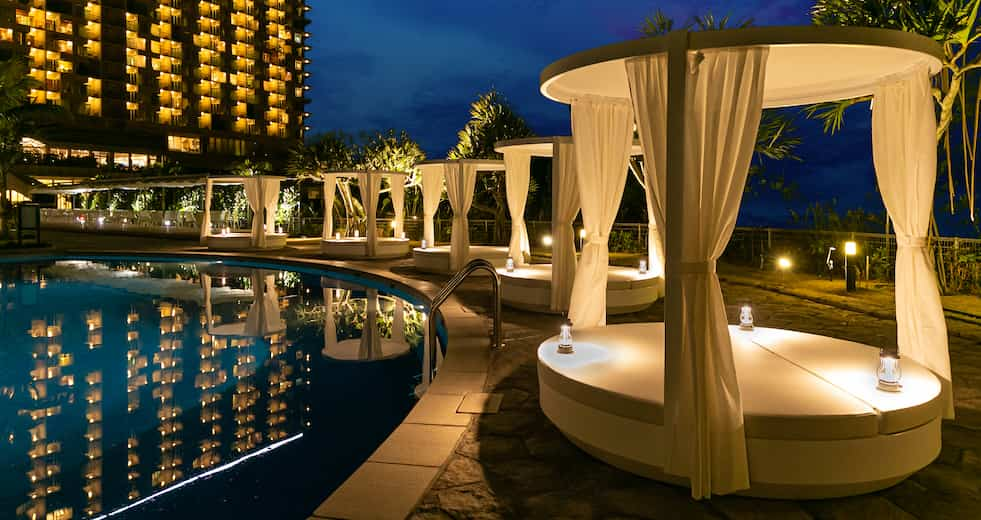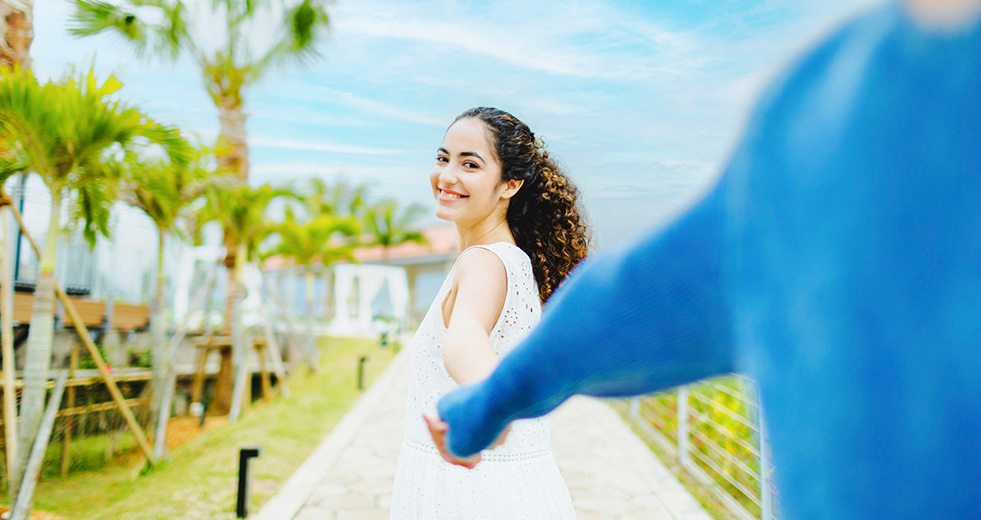 Garden Pool Promenade
The walkway around the pool area is perfect for a refreshing walk. Take advantage of a hammock along the way where you can relax, enjoy the view, and feel the ocean breeze.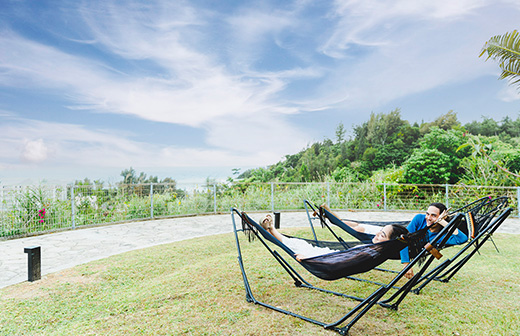 Day Guests
Fees
Facilities
Adult (over 13 years old)
Child (over 7 years old)
Spa
Gym
Indoor Pool
Garden Pool
Spa & Fitness Gym
3,000 yen
1,500 yen
○
○
○
×
Pool
3,000 yen
1,500 yen
×
×
○
○
Spa, Fitness, Pool
5,000 yen
2,500 yen
○
○
○
○
Inner Tube Rental Information
(Fees Charged)
We have small to large sizes available for use by everyone from children to adults.
* There is a limited number.
* Available at the Garden Pool Reception.
* If you leave the pool, the rental time will end.
* The photo is for illustration only.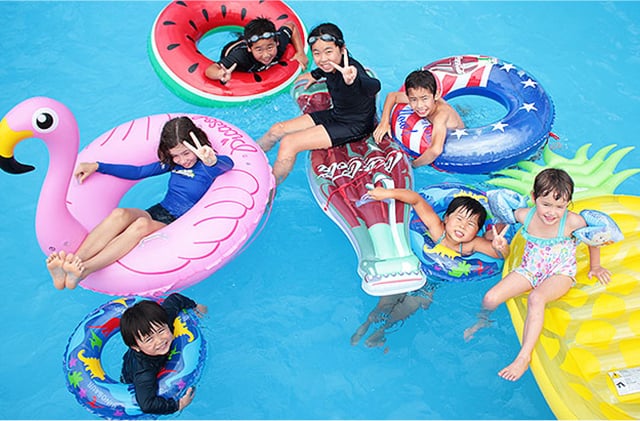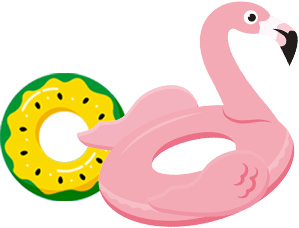 Garden Pool Regulations
For safety reasons, the waterslide is limited to those who are 120cm or more in height.
Please refrain from entering the pool if you do not feel well or are under the influence of alcohol.
Children under the age of 13 must be accompanied by an adult over age 20.
Please be aware of the water depth of each pool before entering as each pool is different.
All infants/children not toilet trained are required to wear a swim diaper with swimwear. Swim diapers are available for purchase at the reception desk.
Snorkels are not permitted in the pool.
Jumping and diving into the pool are not permitted.
Please use public etiquette and do not inconvenience other guests.
Please refrain from bringing food or drinks into the pool area.
If poolside seats are left unattended for more than an hour, they will be made available to other guests.
For safety reasons, the Garden Pool may close during bad weather.
Please note that the hotel is not responsible for any loss or theft in the pool area. In the unlikely event of an accident, please contact the staff immediately. Please use caution regarding accident prevention and protection of valuables.
For safety reasons, the 2.5m deep pool is only available to guests over age 13.
The 2.5m deep pool is for use only in the summer.
For safety reasons, some areas will be closed at 18:00.
Use of the pool facilities may be limited depending on the daily congestion situation. Day visitors may not be allowed entrance.