Top 2 Floors 62 Club Rooms Full Renewal
Accommodations available from December 23, 2022: Reservations start October 25, 2022.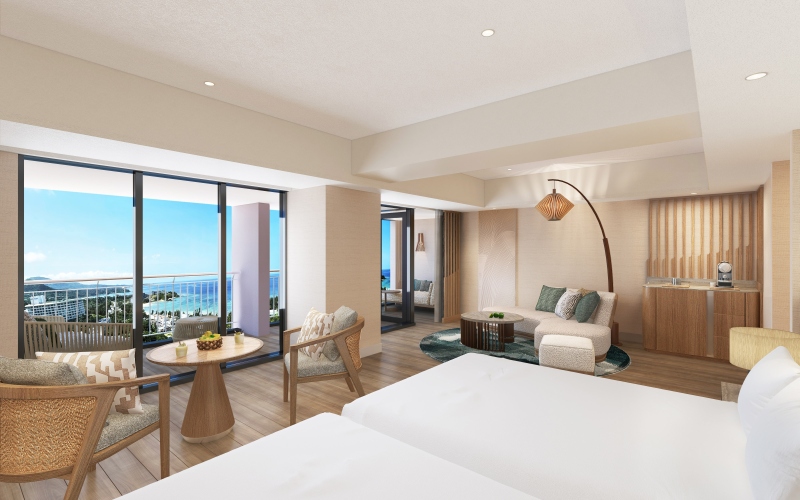 Oriental Hotel is located at the entrance of Yambaru, a newly designated Natural World Heritage Site in the northern part of the main Okinawa island. In March 2022, we opened our new Club Lounge designed with our signature concept of Love Okinawa Discover Yambaru. The lounge is located in the high ceiling lobby area and showcases an abundance of forest plants unique to Yambaru. Our outdoor Garden Pool, one of the largest in Okinawa and with a spectacular view over the East China Sea, has also been newly renovated.

The full renewal of 62 guests rooms includes 2 Club Ocean Premium rooms (68 ㎡), 4 Club Corner Premium rooms (65 ㎡), and 56 Club Rooms (44 ㎡) all featuring a glass-enclosed inner terrace from which the view of Yambaru will stimulate your senses. The inner terrace is equipped with a table and daybed for you to spend an extraordinary time with your loved ones. The floor to ceiling windows make it easy to view the scenery as it changes from morning sunrise to night sky. A dining table provides the space for you to enjoy your favorite wine or awamori from the in-room dining menu. All rooms are equipped with built-in BALMUDA The Speaker, a luxurious addition helping to create an atmosphere of relaxtion. You can experience an undisturbed and deeply satisfying stay here. In the morning, you can wake up to the rich aroma of Okinawan specialty coffee while gazing out at the deep blue of the ocean and the deep green of the forest. Club Lounge access provides you with a breakfast incorporating the richness of Okinawa's sun, sea, and soil. This is the beginning of a renovation plan for all our guest rooms which will continue to showcase our signature concept, Love Okinawa Discover Yambaru.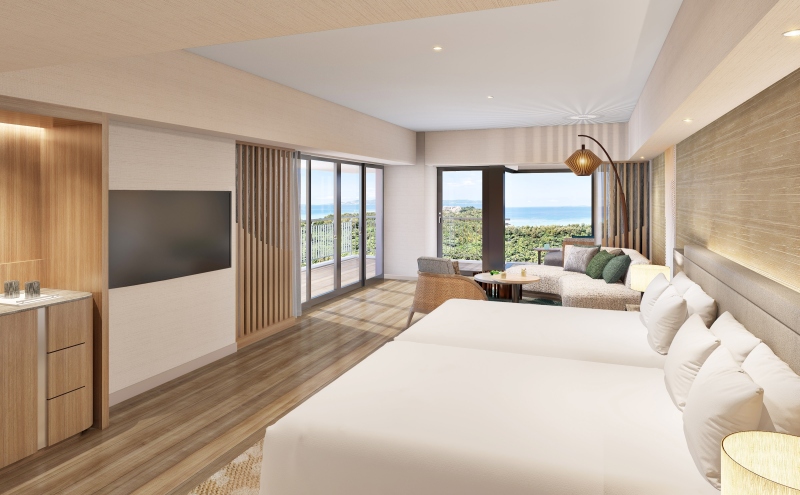 Club Ocean Premium & Club Corner Premium
Oriental Hotel is located on the side of a hill overlooking the East China Sea. The Club Rooms are on the top floors offering not only an amazing view but a very spacious and relaxing living area and an expansive open-air terrace from which to enjoy the sea breeze and the changing scenery. The installation of a washer/dryer in the room makes for convenience beyond expectation.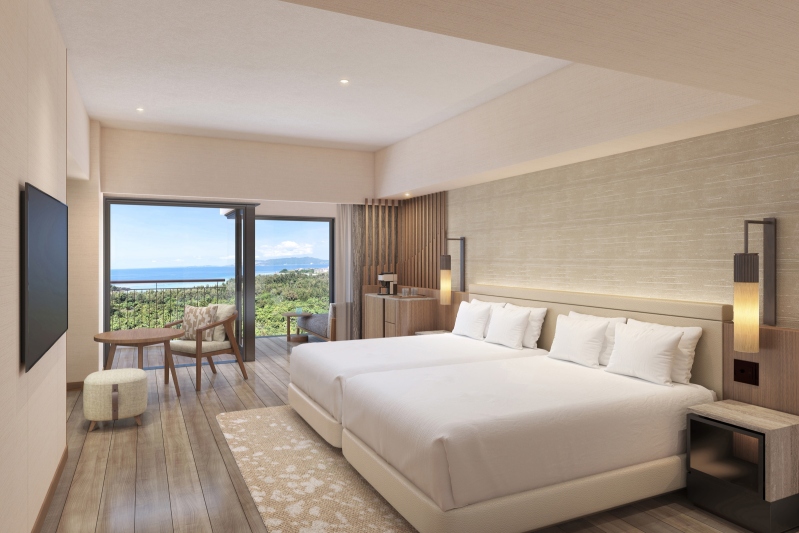 Club Room
This 44 ㎡ guest room has a naturally luxurious design and functional layout characterized by floor to ceiling windows overlooking the forest and the ocean. The open closet and inner terrace with a daybed give the room a sense of openness allowing you to easily unwind. The all-marble bathroom has a separate shower and a bathtub big enough to stretch out your legs and relax.
Renewal Overview
• Reservations begin October 25, 2022
• Accommodation from December 23, 2022
※  Reservations can be made from the official website.
• Renovated Rooms: Club Ocean Premium (2 rooms), Club Corner Premium (4 rooms), Club Room (56 rooms)
※ TATAMI Junior Suite Premium, Club Twin, and Club King rooms will be discontinued.