Stay
Domestic Natural Wood Barrel Sauna & World's Hottest Tent Sauna
Experience Deep Relaxation Overlooking the East China Sea from the Barrel Sauna

After enjoying the sauna, there is a cold bath available and chairs to enjoy the fresh air before you go into the sauna again. This repetition of hot and cold is what creates a deep healing experience for your body. And all of this is in the surroundings of green trees with the ocean breeze giving you a genuine and unique deep relaxation experience at Oriental Hotel Okinawa. The Barrel Sauna has been created by ONE SAUNA, a company that uses domestic wood only. The wonderful, all natural scent of wood fills the whole barrel. There are large windows facing the ocean so that you can enjoy a wide view of the East China Sea including the sunset if you are there at the right time. The Tent Sauna, made by a company called MORZH, is said to have high functionality using material safe enough to create the hottest sauna in the world. This steam sauna is highly endorsed by sauna enthusiats.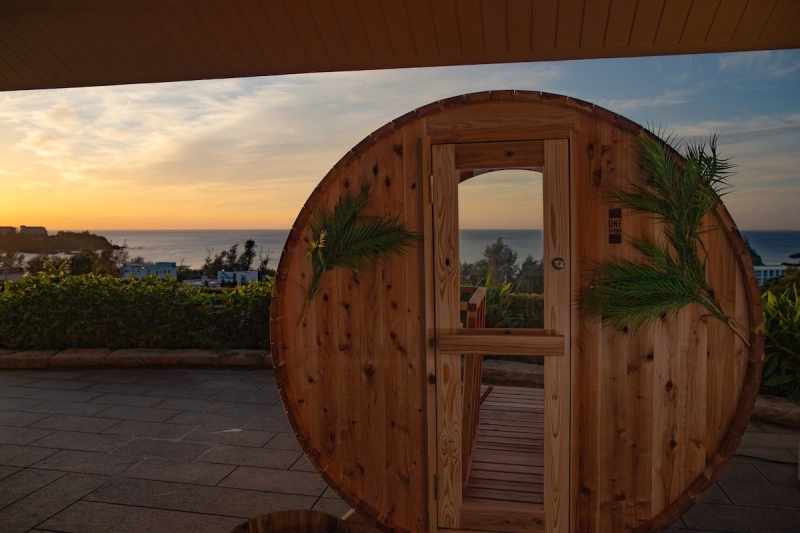 One Barrel Sauna by ONE SAUNA
One Tent Sauna by MORZH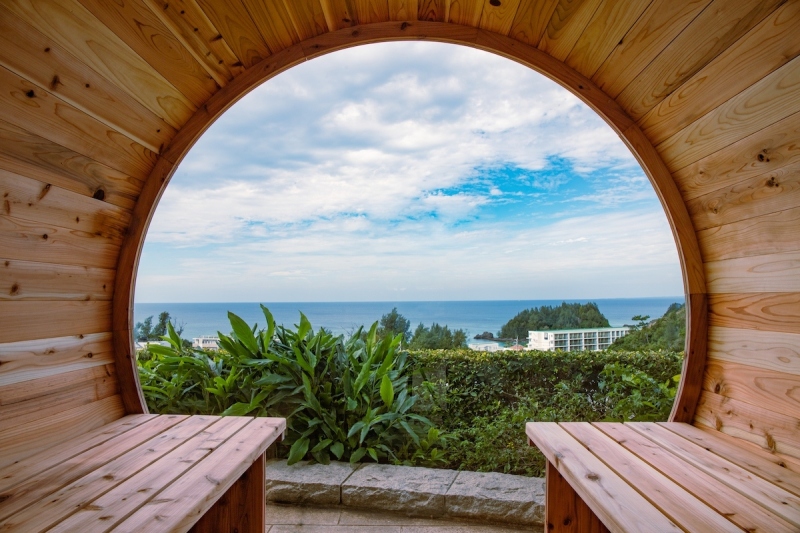 ◆ BARREL SAUNA by ONE SAUNA
ONE SAUNA offers Barrel Saunas made in Japan
The round shape of the barrel helps to keep the room temperature inside the sauna constant, thus maximizing the effect of the heat. The natural warmth and texture of the wood along with the pleasant aroma create a relaxing and comfortable effect.
For 6 people

Enhanced Communication in the Barrel Sauna
"We are all born equal, but there is no place more equal than the sauna." This is an old saying from Finland, the birthplace of the sauna. ONE SAUNA has designed the sauna to promote a community where everyone can be equal and where the distance between mind and body can be reduced to nothing.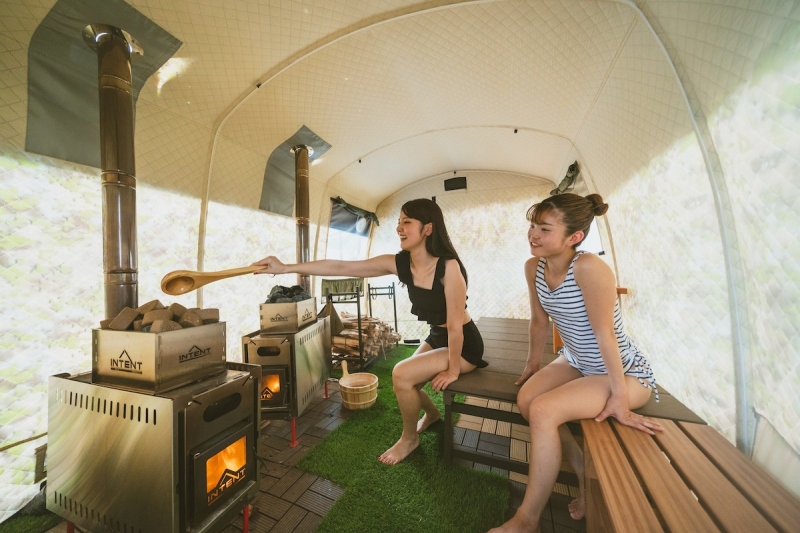 ◆ TENT SAUNA by MORZH
High Functionality Creates the Hottest Sauna
The high density tent uses quilted material that is insulated creating an inside space that shuts out the cold and keeps the hot temperature at a constant. The wood-burning stove keeps the sauna stones hot and sprinkling aromatic water on the stones can bring the temperature to over 100℃. This steam sauna is highly endorsed by sauna enthusiats.
For 8 people

The Tent Sauna is an Intense Sauna Experience
Morzh means "walrus" in Russian. The company chose this name because in Russia, people who enjoy a cold plunge after a hot sauna in the middle of winter are called walruses. The particular shape of the tent and the high performance of the insulated covering and the wood-burning stove can cause the heat in the sauna to reach up to 120°C in a very short time. You will certainly experience the intensity of a well-created sauna.
Season
November 1, 2022 ~ March 31, 2023
*The Garden Pool will be closed for maintenance from January 3rd until the end of February. However, there is a cold water bath set next to the sauna.

Times
13:00〜21:00 (5 time slots per day)
①13:00〜14:30
②14:30〜16:00
③16:00〜17:30
④18:00〜19:30
⑤19:30〜21:00

Fee
¥3,000 per person (hotel guests)
¥4,500 per person (day guests)

Reservations
Reservations & Inquiries: HYDRO SAUNA  080-6483-7353 (13:00~19:00)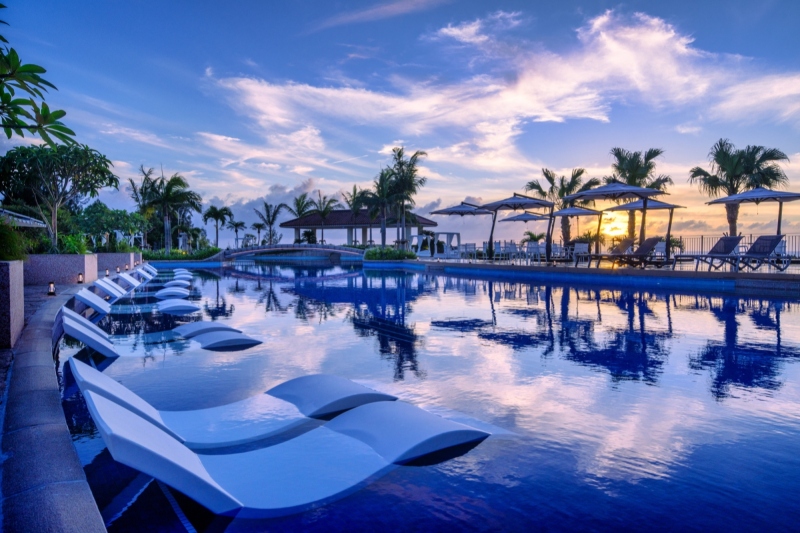 ◆ The Largest Garden Pool in Okinawa
The pool is 170m long with a 47.5m long water slide. You can relax and enjoy the evening sky from the Vibra bath, and at night there are colorful lights illuminating the pool and surrounding greenery transforming the area in a magical space.

Season
March 19, 2022 ~ January 2, 2023
Swimming will not be possible from January 3 to the end of February 2023 due to maintenance.
Pool will open March 1, 2023.
Pool swimming times will be the same as the sauna times: 13:00〜21:00